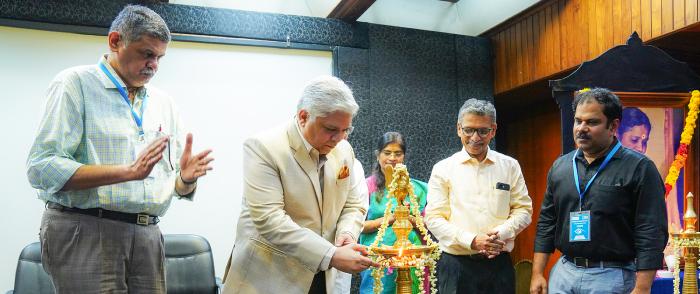 In commemoration of Amrita Hospital's 25th anniversary, in collaboration with SAKSHAMA, a charitable national organization advocating for the disabled, we orchestrated a series of impactful programs titled 'Nayanamritam.' This initiative coincided with the 38th National Eye Donation Fortnight, observed nationwide from August 25th to September 8th, aimed at promoting eye donation awareness. 
The event encompassed four essential components: 
Empowering Visually Challenged Students: SAKSHAMA handpicked visually challenged students for specialized counseling and hands-on training sessions, guided by subject experts, many of whom are high achievers with visual impairments. 
Academic Enrichment: Ophthalmologists benefited from an academic program focusing on blindness, corneal transplantation, and low vision. Additionally, a cutting-edge phacoemulsification wet lab was made available to young surgeons, in collaboration with the Cochin Ophthalmic Club and the Kerala Society of Ophthalmic Surgeons. 
Optometry Continuing Medical Education (CME): An engaging CME event was conducted for optometrists. The highlight of this segment was a 4-minute short film competition with 'eye donation' as its central theme. 
Awareness Through Film: SAKSHAMA's poignant production, 'Mayatha Maarivillu,' was screened to further raise awareness about eye donation. These impactful programs took place on September 3rd, simultaneously across three venues at Amrita Hospital, Kochi. 
During the inauguration, High Court Judge Justice Devan Ramachandran delivered a thought-provoking message emphasizing the need for insight in understanding societal challenges. Dr. Prem Nair, Medical Director of Amrita Hospital, presided over the event, with the presence of distinguished guests from the Department of Ophthalmology, the Kerala Society of Ophthalmic Surgeons (KASS), and SAKSHAMA. This event, held on September 3rd, was a testament to our commitment to eye donation awareness and the welfare of the visually impaired.