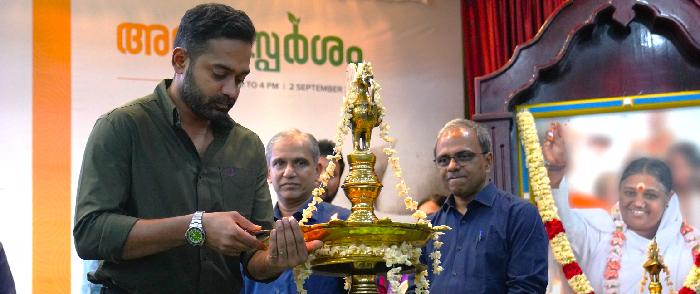 Marking two decades of pioneering Liver Transplantation services, Amrita Hospital Kochi is proud to announce the launch of 'Amrita Sparsham,' a patient support group, in collaboration with the Liver Foundation Of Kerala (LiFOK). This group will serve as a vital bridge between donors, recipients, and medical professionals, fostering communication, addressing concerns, and guiding individuals through the liver transplantation process. Furthermore, 'Amrita Sparsham' aims to foster unity within the liver transplantation community, encouraging knowledge-sharing, inspiration, and solidarity. 
The inauguration of 'Amrita Sparsham' witnessed the presence of renowned film actor Asif Ali, who emphasized the importance of raising awareness about liver transplantation. He stated, "Amrita Sparsham will serve as a lifeline for individuals, including patients, families, and donors, providing comprehensive support for both physical and mental well-being." 
Two esteemed actors, Salim Kumar and Bala, who have undergone liver transplantation at Amrita Hospital, joined the initiative to inspire others. Bala, who was admitted in precarious health, shared his remarkable post-surgery transformation and entertained the group with a song. Salim Kumar narrated his own journey, where he initially explored alternative treatments before Amrita Hospital's doctors recommended liver transplantation. He stressed the importance of seeking the right advice and making timely decisions from trusted medical professionals. Salim Kumar added, "There will be many myths and alternatives offered. It is crucial to seek the right advice, make informed decisions, and consult the right doctors. We should be truly grateful to the doctors who save us, taking risks; they are akin to gods." 
Amrita Hospital, Kochi, has been at the forefront of liver transplantation for two decades. Driven by the vision and expertise of Dr. S. Sudhindran, Head of Solid Organ Transplantation at Amrita Hospital, the hospital performed Kerala's first liver transplantation in 2004, marking the beginning of a new era in the state. Since then, Amrita Hospital's transplant team has achieved numerous firsts in the field, including live donor liver transplants, combined liver-kidney transplants, pediatric liver transplants, and ABO incompatible transplants. In 2018, the hospital achieved another milestone by performing India's first robotic donor hepatectomy. With over 1200 liver transplants and 350 robotic donor hepatectomies, Amrita Hospital's Liver Transplantation Program has become a leading center in the country. 
Dr. Prem Nair, Group Medical Director, Amrita Hospital, expressed the hospital's commitment to further subsidize organ transplantation costs and reduce expenses related to post-transplant care through the newly launched Amrita Liver Foundation. He also highlighted the hospital's recent expansions, including a spacious OP block and a new OT complex, expressing pride in the hospital's transplant program. Dr. Nair stated, "The transplant program has been our pride and joy over the last two decades, and we have supported the transplant program in every way we could." 
The event featured the presence of key figures including Dr. S. Sudhindran, Head of Solid Organ Transplantation at Amrita Hospital, Dr. Gireesh Kumar K.P., Principal, Amrita School of Medicine, Kochi, Mathew Philip, LiFOK Chairman, Dr. Sudheer O.V., HOD Department of GI and HPB surgery and Robotic surgery, Amrita Hospital, Kochi, Dr. Shine Sadasivan, HOD Dept. of Gastroenterology, Amrita Hospital, Kochi, and Dr. Jayakumar T.K., Professor and HOD Dept. of CVTS, along with Dr. Sindhu, HOD GI surgery from Government Medical College, Kottayam. More than 500 liver transplantation survivors, their families, and LiFOK members gathered at Amrita Hospital to be part of the launch event. 
The event also included a prize distribution ceremony to honor the winner of the poster competition conducted by the hospital as part of World Organ Donation Day.